DIFFICULTY IN CHEWING DUE TO WORN TEETH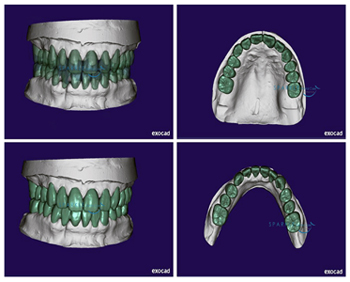 The ability to change lives through comprehensive care is truly a wonderful part of dentistry. But along with the advantage to the patient, there is a challenge to the providers to understand and address the chief concerns and desires of the patient, as well as to understand all the medical and dental implications related to treatment.
If You Suffer From Any Of The Following…
TMJ disorder with frequent headaches or migraines
Unexplained loose teeth
Worn, flat, short teeth, chipping or cracked teeth
The absence of teeth showing when you smile
Cracking, chipping or breaking dental restoratio
Pain or soreness around the jaw joints
Pain in teeth that seems to move around
Neck, shoulder or back pain
Facial pain
Clicking or grating sounds in the jaw joints
Deep wrinkle in the corner of your mouth with constant sores
Limited movement or locking jaw
Congestion or stuffiness of the ears
…Then We May Be Able To Help You!!!
Full mouth rehabilitation/reconstruction is the art and science of using the relaxed position of the muscles of the head and neck to place the jaw into an optimal physiologic position. Full-mouth rehabilitation is the restoration of the mouth involving every tooth in the top and/or bottom arch. There are many people who have no pain but still have occlusal disease (misaligned bite). Full mouth rehabilitation/restoration is a good option for people whose teeth are excessively worn down, damaged, missing, or for people who have problems with their temporo-mandibular joint (jaw joint).
Worn or damaged teeth are more than just unattractive; they can cause difficulty in chewing, poor nutrition, gastrointestinal upset, jaw joint problems, headaches, pain, and facial collapse. Treatments such as dental crowns, dental implants, or composite fillings may all be part of a full mouth rejuvenation plan and can help alleviate these symptoms; is usually accomplished by multiple office visits. All full mouth cases take hours of planning and development. Because of this, we schedule these treatment visits on a day open only to you.
We invite you to talk with us about how the full mouth reconstruction and rehabilitation can enhance your life. Speak with us; let us clear your doubts and help you know more about this procedure!!!
Back to top
DENTAL CROWN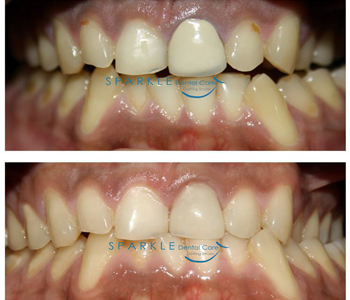 If you want a smile that's your crowning glory, you may need a crown to cover a tooth to help restore it to its normal shape and size. A crown can make your tooth stronger and improve its appearance.
A crown can help strengthen a tooth with a large filling when there isn't enough tooth structure remaining to hold the filling. Crowns can also be used to attach bridges, protect a weak tooth from breaking or restore one that's already broken. A crown is a good way to cover teeth that are discolored or badly shaped. It's also used to cover a dental implant. Our primary concern, like yours, is helping you keep your teeth healthy and your smile bright. Speak with us; let us clear your doubts and help you know more about this procedure!!!
Back to top
CAD/CAM DENTISTRY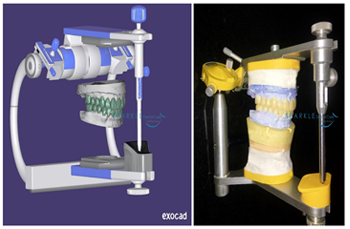 CAD/CAM dentistry is a field of dentistry and prosthodontics using CAD/CAM (computer-aided design and computer-aided manufacturing) to improve the design and creation of dental restorations including crowns, veneers, inlays and onlays, fixed bridges, dental implant restorations, dentures (removable or fixed) and orthodontic appliances. CAD/CAM complements earlier technologies used for these purposes by improving the design and making the restoration very accurate. This new technology reduces human errors and makes the restoration very strong as well. In our office we use a lot of CAD/CAM designed crowns (Lava and Procera crowns, from renowned companies like 3M and Nobel Biocare). Speak with us; let us clear your doubts and help you know more about this procedure!!!
Back to top
CORRECTION OF OLD CROWNS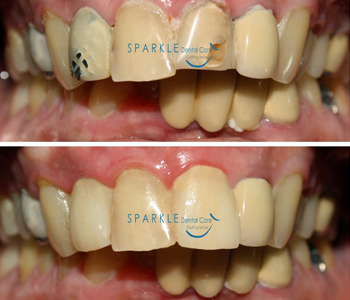 Over the years there has been a tremendous development in dental ceramics for crowns and bridges. New ceramic materials and CAD/CAM technologies make it possible to fabricate crowns and bridges that really closely mimic the natural appearance of teeth.
When should you replace old dental crowns?
Dental crowns may be replaced when a leak is present. There should be a perfect seal when the crown is fitted onto the tooth so that food and bacteria does not seep into the teeth to infect it and compromise its health. A tooth that is covered by a crown can still develop tooth decay and may be infected by gum disease. A tooth is more susceptible to gum disease and dental caries when there is a leak with the dental crowns.
Dental crowns that have their porcelain or ceramic components chipped or fractured should be replaced; otherwise you just have a metal crown which is not aesthetic at all. This is most especially important if your dental crowns are found on the anterior teeth. The whole point of having a prosthesis is so that you can replace a tooth, and when the dental crowns no longer serve that purpose, it has to be replaced.
When the health of the abutment or supporting teeth is compromised, either requiring a root canal because of a dental infection or is no longer stable because of a progressive gum disease, the existing crowns will have to be destroyed or removed, so that the tooth can receive appropriate treatment (root canal, tooth extraction, root planning). After the treatment, the old dental crowns are to be replaced with a new one.
Sometimes, you may want to replace his existing dental crowns so that he can upgrade the dental crowns that he currently has, to a better one. The old dental crowns make use of less precious metals and you can upgrade your existing dental crowns to the ones with zirconium and so forth. If you are not happy with your crowns and you believe that some improvement can be given to you, you can ask us for new crowns. Another upgrade you can consider is if you have a different material of crown, like if you have plastic or metal and you wish to upgrade to porcelain.
When the initial design of your dental bridges and crowns is not good enough, either the abutment support is enough (so more teeth will have to be added) or the distribution of load is not sufficient enough to support the prosthesis, the entire thing will have to be reconsidered and a replacement may be in order.
The replacement of old dental crowns is more complicated than when they are being fabricated for the first time. Removing the cemented crowns from the tooth or teeth is not done simply. Sometimes is can be removed in one-piece, but at times it will have to be drilled out of the mouth and it is quite tasking. It is more time consuming, but you should just visualize the result in the end. Speak with us; let us clear your doubts and help you know more about this procedure!!!
Back to top