PREVENTIVE CARE AND DENTAL CARE ROUTINE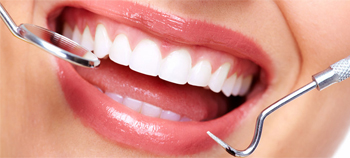 Did you know that tooth decay is the second most common disease, following the common cold? The sad fact is that most of us will experience at least one dental cavity during our lives, and a significant amount of the population will develop gum disease. Preventive dentistry is the ongoing care used to prevent the occurrence of tooth decay and other dental diseases.
We strongly believe in preventive dentistry as the best possible means of maintaining optimum oral health. Preventive dental care can help each member of your family maintain a beautiful, healthy smile by safeguarding against oral diseases, like dental decay, gum disease or periodontal disease. Our goal is to prevent these diseases from happening in the first place or to catch the problems in their early stages when they are easier and less expensive to treat.
Our approach to preventive dental care includes routine gentle dental cleanings and checkups as well as education and advice that can help every member of your family practice good oral hygiene at home.
American Dental Association recommends routine preventive dental care visits at least once a year. Each routine visit includes a comprehensive cleaning and oral examination. We will screen for decay, gum disease, periodontal disease, oral cancer, jaw joint and problems with your bite. We can also address any concerns you may have. Speak with us; let us clear your doubts and help you know more about this procedure!!!
Back to top
SEALANTS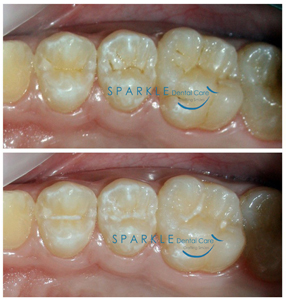 You might spend all day admiring those attractive front teeth, but your back teeth molars get the real work done. The chewing surfaces of your molar back teeth are rough and contoured with pits and grooves to help break down food. While brushing and flossing helps remove food and dental plaque from smooth tooth surfaces, properly cleaning these deep fissures on your molars can be much more difficult.
Luckily, dental sealants offer molars a safeguard from tooth decay. Made of plastic resin, these tooth sealants are applied to the grooves of premolars and molars to "seal out" cavity-causing bacteria and food. Speak with us; let us clear your doubts and help you know more about this procedure!!!
Back to top
MOUTH GUARD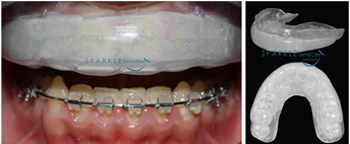 An active lifestyle calls for active safety. While helmets, goggles and knee pads have become standard equipment to protect our bodies, it's important to remember to protect your teeth as well. Mouth guards offer an easy, reliable method to cushion your teeth during athletic and recreational activity.
Participating in any physical activity involves a risk of contact with the face and mouth. Although many sports teams require some protective gear, the delicate teeth are often overlooked. Considering that even minor direct force can cause teeth to chip, break or come loose, a mouth guard is a crucial piece of equipment for all active or athletic activities.
Mouth guards are especially crucial during contact sports such as football, hockey or boxing, where blows to the body and face are regular occurrences. But even non-contact sports such as gymnastics and recreational pastimes such as skating or mountain biking, still pose a risk to the teeth. Speak with us; let us clear your doubts and help you know more about this procedure!!!
Back to top
NIGHT GUARD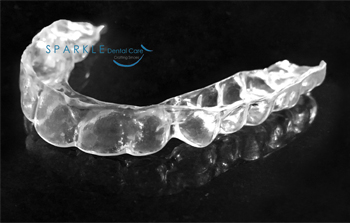 Want to know one excellent way to combat the bothersome habit of nighttime bruxism, or teeth grinding? Use of a night guard – every time you sleep. If you think the trouble or expense of a dental night guard isn't worth it, or you aren't even entirely sure it's tooth-grinding behind what seem to be increasingly shorter teeth, headaches, jaw pain and a perturbed sleep partner, it's probably time to visit us. Based on the amount of damage you may have already done and the symptoms you describe; we can determine whether a night mouth guard is right for you. Once your dental night guard is in place, you can sleep soundly knowing that even if you do grind your teeth once you're asleep, your upper and lower teeth will no longer make contact. Speak with us; let us clear your doubts and help you know more about this procedure!!!
Back to top