DENTAL EMERGENCIES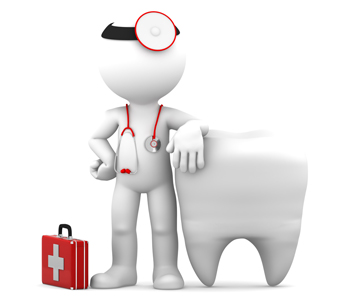 Let's face it, accidents happen – and if you've had an injury to the teeth, mouth or jaw, you need to see us right away. Putting off dental treatment for a dental emergency now only increases the risk of permanent damage later, which could translate into more extensive and expensive treatment down the road. And if you're hurting, we can help. So whether you're suffering from a broken tooth, have lost a tooth filling or are desperately seeking toothache remedies, don't put off treatment for your dental emergency another day.
Here are some tips for common dental emergencies:
For a knocked-out permanent or adult tooth, keep it moist at all times. If you can, try placing the tooth back in the socket without touching the root. If that's not possible, place it in between your cheek and gums or in milk. Then, get to our office right away.
For a cracked tooth, immediately rinse the mouth with warm water to clean the area. Put cold compresses on the face to keep any swelling down.
If you bite your tongue or lip, clean the area gently with water and apply a cold compress.
For toothaches, rinse the mouth with warm water to clean it out. Gently use dental floss to remove any food caught between the teeth. Do not put aspirin on the aching tooth or gum tissues.
For objects stuck in the mouth, try to gently remove with floss but do not try to remove it with sharp or pointed instruments.
We usually reserve time in our daily schedules for emergency patients. Call us immediately and provide us in as much detail as possible about your condition.