DISCOLORED TEETH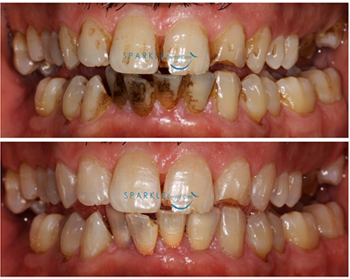 Over time your teeth can become stained and change color. This is often the result of eating certain foods, such as coffee or tea, smoking, aging, genetics, injury or certain medications. Whitening options can include over the counter or in office treatments. Check with us about your options for stain removal.
With today's advances, you don't have to suffer from discolored teeth. Here are some options to get back that sparkle in your smile:
TOOTH WHITENING
PORCELAIN LAMINATE VENEERS
CORRECTION OF SILVER (AMALGAM) AND OLD INCORRECT DISCOLORED FILLINGS
Back to top
TOOTH WHITENING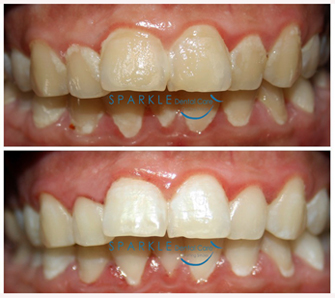 Everybody loves a bright white smile, and there are a variety of products and procedures available to help you improve the look of yours. Many people are satisfied with the sparkle they get from daily oral hygiene and regular cleanings at our office, but if you decide you would like to go beyond this to make your smile look brighter; you should investigate all of your whitening options.
Start by speaking with us. We can tell you whether whitening procedures would be effective for you. Whiteners may not correct all types of discoloration. For example, yellow-ish hued teeth will probably bleach well, brownish-colored teeth may bleach less well, and grayish-hued teeth may not bleach well at all. If you have had bonding or tooth-colored fillings placed in your front teeth the whitener will not affect the color of these materials, and they will stand out in your newly whitened smile. You may want to investigate other options, like porcelain veneers or dental bonding.
If you are a candidate for whitening there are several ways to whiten your smile:
In-office bleaching: This procedure is called chair-side bleaching and usually requires only one office visit. We apply a protective gel to your gums to protect the oral soft tissues. A bleaching agent is then applied to the teeth, and a special light may be used.
At-home bleaching: Peroxide-containing whiteners actually bleach the tooth enamel. They typically come in a gel and are placed in a mouth-guard. Usage regimens vary. There are potential side effects, such as increased sensitivity or gum irritation. Speak with us if you have any concerns.
Whitening toothpastes: All toothpastes help remove surface stain through the action of mild abrasives. "Whitening" toothpastes have special chemical or polishing agents that provide additional stain removal effectiveness. Unlike bleaches, these do not change the color of teeth because they can only remove stains on the surface. Speak with us; let us clear your doubts and help you know more about this procedure!!!
Back to top
PORCELAIN LAMINATE VENEERS
Veneers are thin, custom-made shells crafted of tooth-colored materials designed to cover the front side of teeth. They are an option for correcting stained, chipped, decayed or crooked teeth. Veneers are made by a dental technician, usually in a dental lab, working from a model provided by us. Placing veneers is usually an irreversible process, because it's necessary to remove a small amount of enamel from your tooth to accommodate the shell. It may be recommending that you avoid some foods and beverages that may stain or discolor your veneers such as coffee, tea or red wine. But for many people the results are more than worth it. Speak with us; let us clear your doubts and help you know more about this procedure!!!
Back to top
CORRECTION OF SILVER (AMALGAM) AND OLD INCORRECT DISCOLORED FILLINGS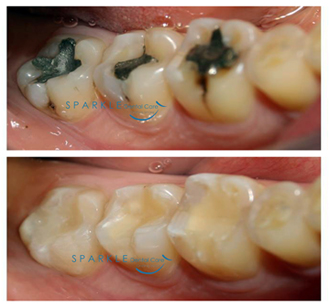 When it comes to having a cavity filled, it's important to know choose the material that's right for you. Dental amalgam, sometimes described as "silver-colored" fillings, is made from a combination of metals that include mercury, silver, tin, and copper. Dental amalgam has been used for generations by dentists. Amalgam is very durable and more affordable than tooth-colored or gold fillings; however, tooth-colored materials are more natural looking.
Say goodbye to ugly silver-colored amalgam fillings! Modern dentistry uses materials that are now safer and esthetically pleasing. Tooth colored fillings are becoming increasingly popular over the traditional silver mercury fillings. Silver fillings characteristically darken over time and have a tendency to fracture the tooth in the long run. They tend to corrode and leak over time. Composite fillings are not only more aesthetic but require less of tooth structure to be removed.
Today patients demand to replace their old black fillings in place of tooth colored composite bonded fillings that blend in beautifully with the remaining tooth. Speak with us; let us clear your doubts and help you know more about this procedure!!!
Back to top