CROOKED TEETH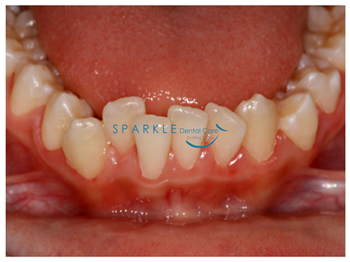 A beautiful smile is not the only benefit of having straighter teeth. Did you know that properly aligned teeth can also affect your overall health? When left untreated, crooked teeth can often lead to periodontal disease and premature wear on your enamel. Periodontal disease may also increase the risk of cardiovascular disease and other illnesses. Straighter teeth and a proper bite can help you avoid these negative effects on your health.
Straightening your teeth can be accomplished in different ways. The kind of treatment you have will depend on your preference among the options provided by us. The different treatment options for crooked teeth are:
Orthodontic Correction

Conventional Orthodontic Correction (BRACES)
Aesthetic Options

Tooth Color Brackets
Lingual Orthodontics
Clear Aligners – Invasalign & Others

Adult orthodontics

Correction using Porcelain Laminate Veneers
Back to top
ORTHODONTIC CORRECTION
Braces and orthodontic treatment are used to correct "bad bites," or malocclusion (teeth that are crowded or crooked). In some cases, your teeth may be straight, but your upper and lower jaws may not meet properly. These jaw or tooth alignment problems may be inherited or could result from injury, early or late tooth loss, or thumb-sucking.
If you have an abnormal bite braces may be recommending or another orthodontic treatment to straighten out your smile. Correcting the problem can create a nice-looking smile, but more importantly, orthodontic treatment results in a healthier mouth. Not correcting an abnormal bite could result in further oral health problems, including:
tooth decay
gum disease
tooth loss
affected speech and/or chewing
abnormal wear to tooth enamel
jaw problems
Since abnormal bites usually become noticeable between the ages of 6 and 12, orthodontic treatment often begins between ages 8 and 14. Treatment that begins while a child is growing helps produce optimal results. Speak with us; let us clear your doubts and help you know more about this procedure!!!
Back to top
CONVENTIONAL ORTHODONTIC CORRECTION (BRACES)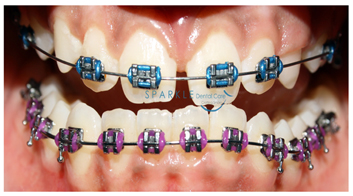 Traditional braces realign teeth by applying pressure. They usually consist of small brackets cemented to your teeth, connected by a wire, which is periodically tightened to gradually shift your teeth and jaw. Treatment plans will vary based on your situation, but most people are in treatment from one to three years. This is followed by a period of wearing a retainer that holds teeth in their new positions. Today's braces are more comfortable than ever before. Newer materials apply a constant, gentle force to move teeth and usually require fewer adjustments.
While you have braces it's important to maintain a balanced diet for the health of your teeth. Of course, a healthy diet is always important, but eating too many sugary foods with braces can lead to plaque build-up around your brackets that could permanently stain or damage your teeth. Avoiding foods like popcorn, corn on the cob, chewing gum, whole apples, and other sticky foods is also a good idea. We will help you with what foods to avoid while you are in treatment. Not all of us are born with beautiful smiles, but with a good oral hygiene routine, and a little help from us, you can have a beautiful and healthy smile. Speak with us; let us clear your doubts and help you know more about this procedure!!!
Back to top
AESTHETIC OPTIONS FOR ORTHODONTIC CORRECTION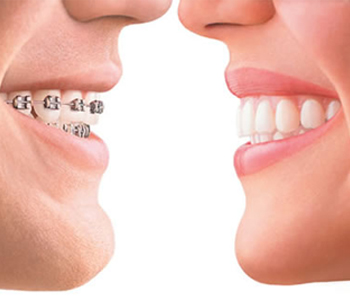 You've been mulling over getting braces, but you're worried that they'll cramp your style. Still, you know that dental braces are a good thing; straight teeth are easier to clean and can help minimize the risk of tooth decay. Plus, you're tired of covering your teeth every time you smile or laugh – you want a smile that you're proud to show off. So what's the answer?
Recent advances in dentistry offers many aesthetic options like tooth colored braces, lingual orthodontics, clear aligners and instant correction using porcelain laminate veneers.
Back to top
TOOTH COLOR BRACKETS (CERAMIC BRACES)
Have you wanted to have a perfect smile but felt too self-conscious and embarrassed to have 'train track' braces?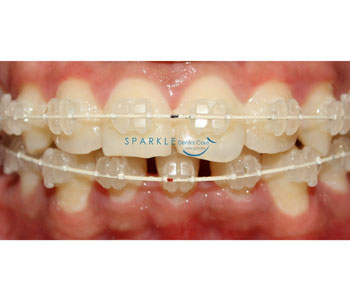 Today's orthodontics offer more kinds of braces than ever before. Clear dental braces have become all the rage for those who might "freak out" over the idea of metal dental braces. Commonly known as ceramic braces or tooth colored brackets, clear dental braces are one of several types of orthodontic braces designed to fit adult lifestyles. Ceramic braces help hide the fact you're wearing braces by blending in with your teeth. Unlike traditional metal braces, Ceramic brackets are made from a glass-like composite material that appears translucent, allowing your teeth to shine through.
Ceramic braces were created with aesthetics in mind. The porcelain brackets themselves are designed to resist stains when cared for properly. Ligatures, or rubber bands that hold the arch wire in place, are often white or clear to compliment the brackets. Even the metal arch wire come coated in white, hence they too will appear less noticeable and blends in with your brackets. Speak with us; let us clear your doubts and help you know more about this procedure!!!
Back to top
LINGUAL ORTHODONTICS
Often termed as invisible braces!!!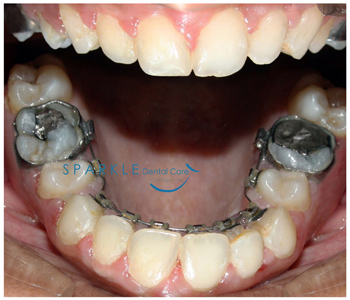 From the esthetic perspective, lingual orthodontics provides the best option for comprehensive treatment of most malocclusions while maintaining full three-dimensional control of the dentition. Lingual braces are the most invisible type of dental braces of them all! What makes lingual braces so unique is their placement: Unlike any other type of dental braces, lingual braces are placed behind your teeth. With lingual braces, you don't have to worry about hiding a "metal mouth"; you can smile like you've got a secret – because you do!
The biggest advantage is, of course, cosmetic. With ceramic braces, the brackets are tooth-colored and look more natural, but the metal wire connecting the brackets is still visible. You won't have that problem with lingual braces. In fact, someone would have to look pretty close at your mouth or from certain angles to see them. Lingual braces are also great for people who play wind instruments or sports.
Your first appointment for lingual braces involves taking an impression of your teeth. This impression will then be sent to a dental laboratory where your customized brackets are created using Computer Aided Designing and Computer Aided Milling (CAD/CAM) and rapid prototyping technologies. Wires are created and bent using robotic technology. This process takes about six weeks. Once complete, we will use a precise process to cement them onto your teeth. Afterwards, you'll need to revisit us for monitoring and progress reports. Speak with us; let us clear your doubts and help you know more about this procedure!!!
Back to top
CLEAR ALIGNERS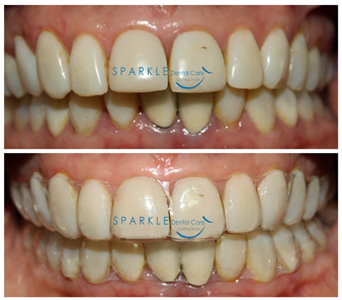 Transparent orthodontic aligner systems are a comfortable, lifestyle-friendly alternative to braces. Practically invisible, these innovative clear braces are an ideal solution for people who want to improve the appearance of their smile without calling undue attention to their teeth in the process. Thanks to ClearPath, Invasalign and similar aligner systems it's now possible to straighten teeth without braces, wires and brackets.
Unlike traditional wire and ceramic dental braces, which are "permanently" cemented in place, Clear Aligners use a series of custom-made removable aligners to straighten your teeth. Designed to work in stages, each transparent aligner moves your teeth just a tiny bit so that over time your teeth eventually straighten. In addition to improving the appearance of your smile, Clear Aligners can straighten and align teeth that are crooked or turned. Clear Aligners work whether your teeth are crowded or spaced and can correct most overbites and underbites. Speak with us; let us clear your doubts and help you know more about this procedure!!!
Back to top
ADULT ORTHODONTICS
It's Never Too Late to Improve Your Smile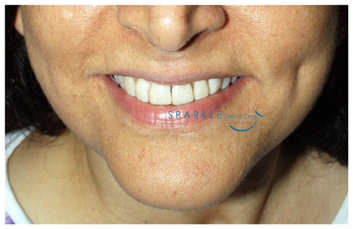 Dental braces aren't just for children anymore. As more grown-ups are taking interest in their appearance, adult orthodontics is gaining popularity. Despite popular belief, you can get dental braces at just about any age.
Today many adults seek orthodontic treatment to correct long-standing problems, or problems that stem from maturational changes. Adult orthodontics has changed the lives of millions of adults, giving them the perfectly aligned smile they've always dreamed of. But adult orthodontics provides more than a beautiful smile. Straight teeth are easier to take care of, preventing the possibility of dental problems as you age. Adult orthodontics also makes it easier to chew and speak once your dental treatment is finished. So if you have crooked teeth or a misaligned bite, consider adult orthodontics. The result is definitely worth it! Don't wait any longer to get the smile you want – and the confidence you deserve! Speak with us; let us clear your doubts and help you know more about this procedure!!!
Back to top
CORRECTION USING PORCELAIN LAMINATE VENEERS
Too busy for Orthodontics…No Problem!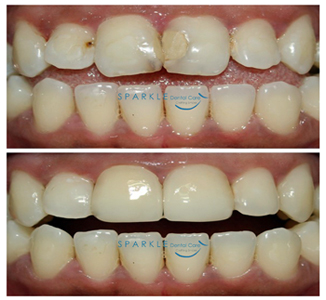 Due to our busy schedules, want for a quick fix, prior work and social commitments; few of us don't have the time and patience to go through conventional orthodontic treatment. Hence, patients with mild to moderate crowding, spacing or rotations can correct their crooked teeth with Porcelain Laminate Veneers. Speak with us; let us clear your doubts and help you know more about this procedure!!!
Back to top