DENTAL DECAY (CARIOUS TEETH)
Tooth decay is the destruction of your tooth enamel, the hard, outer layer of your teeth. It can be a problem for children, teens and adults. Plaque, a sticky film of bacteria, constantly forms on your teeth. When you eat or drink foods containing sugars, the bacteria in plaque produce acids that attack tooth enamel. The stickiness of the plaque keeps these acids in contact with your teeth and over time the enamel can break down. This is when cavities can form.
Cavities are more common among children, but changes that occur with aging make cavities an adult problem, too. Recession of the gums away from the teeth, combined with an increased incidence of gum disease, can expose tooth roots to plaque. Tooth roots are covered with cementum, a softer tissue than enamel. They are susceptible to decay and are more sensitive to touch and to hot and cold. It's common for people over age 50 to have tooth-root decay.
Decay around the edges, or a margin, of fillings is also common for older adults. Because many older adults lacked benefits of fluoride and modern preventive dental care when they were growing up, they often have a number of dental fillings. Over the years, these fillings may weaken and tend to fracture and leak around the edges. Bacteria accumulate in these tiny crevices causing acid to build up which leads to decay.
Treatments available for Dental Decay and Carious Teeth are:
COMPOSITE BONDINGS (TOOTH COLORED FILLINGS)
INLAYS /ONLAYS
COMPOSITE BONDINGS (TOOTH COLORED FILLINGS)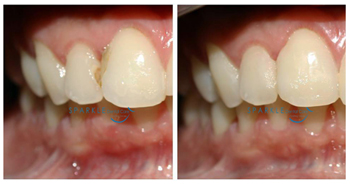 Composite resins or tooth-colored fillings, are a mixture of glass or quartz filler that provide good durability and resistance to fracture in small to mid-size fillings that need to withstand moderate pressure from the constant stress of chewing. They can be used on either front or back teeth. They are a good choice for people who prefer that their fillings look more natural. Composite fillings are not only more aesthetic but require less of tooth structure to be removed.
Tooth-colored fillings are now used more often than amalgam (silver) or gold fillings, due to cosmetics. In a society focused on a white, bright smile, people tend to want fillings that blend with the natural color of their teeth. It generally takes longer to place a composite filling because composite fillings require the tooth be kept clean and dry while the cavity is being filled.
Ultimately, the best dental filling is no dental filling. Also, no dental filling lasts forever. Prevention is the best medicine. Speak with us; let us clear your doubts and help you know more about this procedure!!!
Back to top
INLAYS /ONLAYS
Dental inlays and onlays are restorations used to repair back teeth with mild to moderate decay or cracked and fractured teeth that are not sufficiently damaged to need a crown. Ideal candidates for inlay or onlay work typically have too much damage or decay in the tooth structure to be successfully treated using a filling, but have sufficient healthy tooth remaining to avoid the need for a crown. This allows the dentist to conserve more of the patient's original tooth structure.
Inlays and onlays are durable – they are made from tough, hard-wearing materials. They help to strengthen teeth by up to 75 percent, unlike traditional metal fillings which can actually reduce the strength of the teeth by up to 50 percent. Inlays and onlays also prolong tooth life and prevent the need for more dental treatment in the future.
Dental inlays and onlays are used when old fillings need to be removed or replaced. A dental inlay is similar to a filling and fits inside the cusp tips of the tooth. A dental onlay is more extensive and extends over the cusps of the treated tooth.
During treatment we remove the old fillings and make an impression of the tooth, which is sent to the dental laboratory. The new inlay or onlay is made from this mold in porcelain. The inlay or onlay is then cemented into place at the next appointment. The inlay or onlay blends successfully with the treated tooth and the rest of the teeth to achieve a natural, uniform appearance. Speak with us; let us clear your doubts and help you know more about this procedure!!!
Back to top